Clean Your Email Lists Before Any Holiday Season
During the holiday season, retailers send an increased volume of emails to clients with special offers and promotions. Clearly, email is a critical communication channel for the holiday season. However, with increased volume sent to potentially inactive subscribers, comes some vulnerability. And with increased pressure to perform, retailers look to increase their volume of communications and the size of their database.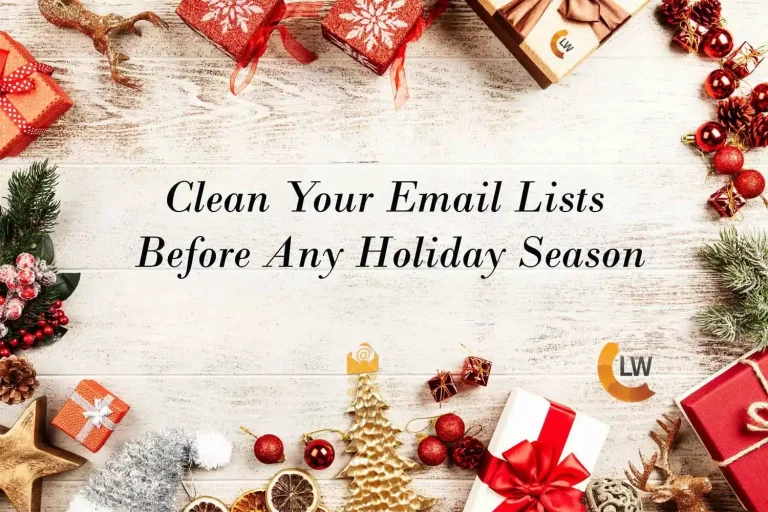 Sending to inactive subscribers or inaccurate email addresses can expose retailers to sender reputation problems. This is the rating a given domain has with Internet Service Providers, which can affect their ability to reach a subscriber's inbox.
Since every ISP calculates sender reputation differently, it is important that retailers understand the top factors affecting sender reputation and work to prevent any errors. Some of the main factors is the volume of email sent, spam trap hits, blacklists, complaints and hard bounce rates. Perhaps the most worried about factor is that of 'spam trap hits'.
If you are receiving more than one spam complaint for every 1000 emails sent then this could be damaging to your sender reputation. Most people are familiar with the "Report Spam" button on their email client. When this is clicked on a spam complaint is logged at the ISP level or it is also relayed back to the sender if they are a part of a feedback loop. A good way to reduce your spam complaints is to ensure that all of your subscribers are opt-in.
As volume picks up during the holiday season, so does the risk of deliverability issues. This increased volume can exacerbate any problems that may exist with the email database. And problems certainly exist today in many email databases. On average, U.S. organizations believe a quarter of the information in their database is inaccurate. This has led to many problems for organizations in the last 12 months, including spam trap hits, blacklisting and trouble reaching the inbox.
While 88% of organizations manage their email database in some way, it is important that information be validated and data management methods refreshed prior to the holiday season. Marketers should be sure to review opt-out requests, bad emails and inactive subscribers prior to the start of holiday campaigns. This will help improve some of the leading causes of deliverability issues.
Before any holiday season, always clean your email lists with ListWise. ListWise intelligently cleans your email lists, separating the email addresses into the various categories. Such as, 'clean', 'duplicates' and 'bounces'. These can then be downloaded in separate or combined CSV files.
Sending to inaccurate or inactive email addresses can have serious impacts on your email sender reputation. Be sure your email database is ready before any holiday season.